Skin Cancer Blog
Webinars & Lectures
Starting out in skin cancer work?
Did you miss the recent webinar from Paul Elmslie, CEO & Founder of National Skin Cancer Centres and HealthCert, outlining the essential steps for starting out in skin cancer work? Watch the full recording on the blog. [43 min watch]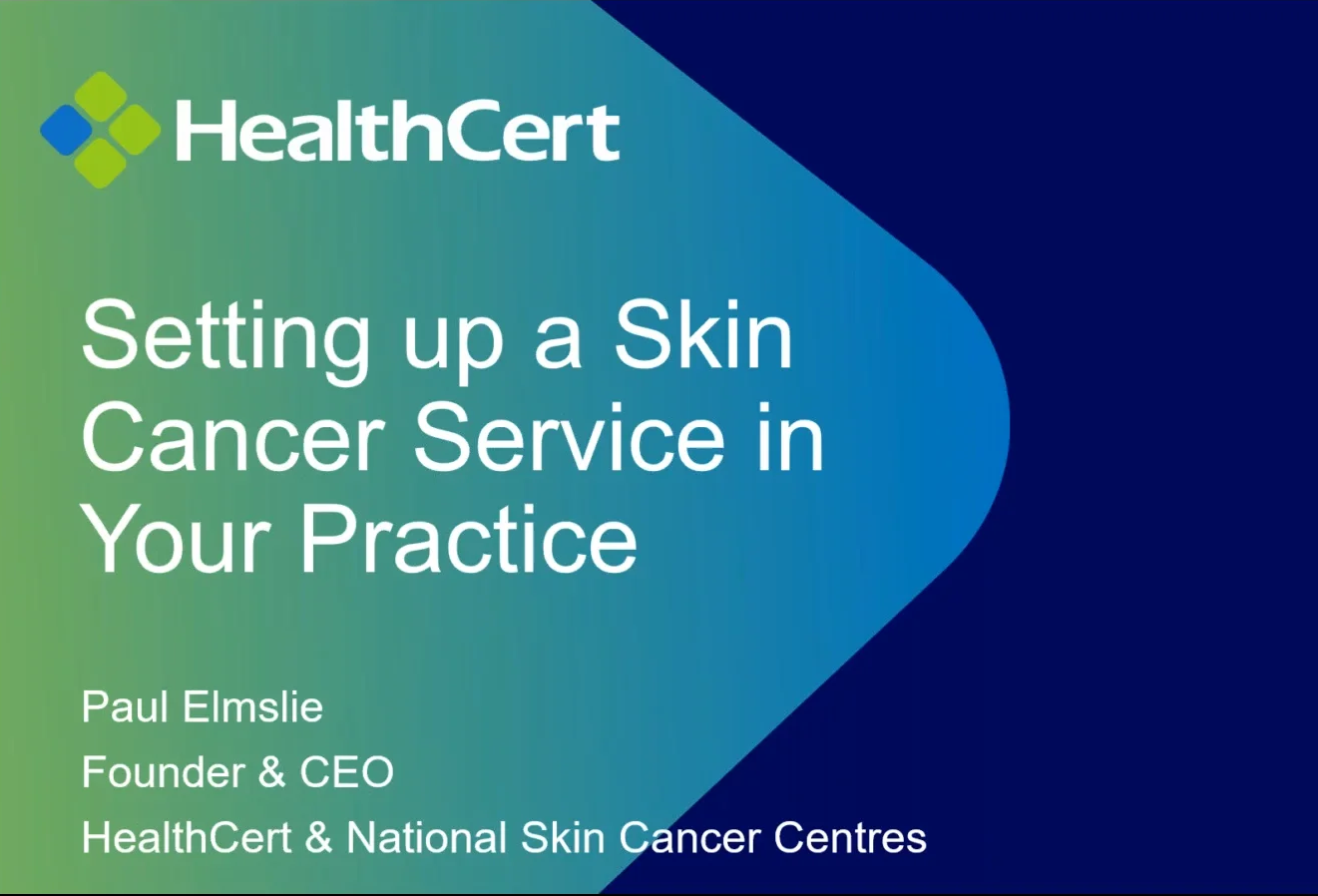 In this month's skin cancer update video, Professor Giuseppe Argenziano discusses what you should do when a biopsy of a flat facial lesion suggests a junctional naevus (as it could be a melanoma!). Watch here! [3 min watch]
Articles & Research

New Cyrotherpay Guidlines
Pertinent to all doctors who treat skin cancer, the new Non-Melanoma Skin Cancer Guidelines have been released. Professor David Wilkinson shares his recommendations on changes to cryotherapy in this month's research update.
Read the new recomendations here!
How much sun causes melanoma?
It's in your genes, according to new research from QIMR Berghofer. Learn more on this HealthCert blog.
[7 min read-Posted November 29th 2019 ]
Australians spend over $1 billion on cosmetic services every year and a common concern is sagging skin.
An innovative procedure known as the thread lift helps to fill the gap between non-invasive facial rejuvenation and traditional facelift surgery.
Learn more on this blog!
[4 min read-Posted December 5th 2019]
Huge Growth in Anti-Ageing Services
The global market for anti-ageing services is expected to grow by US$13 billion by 2026. Are you ready to deliver these high-demand services in your practice? Learn more on the blog. [4 min read]
Podcasts

HealthCert has recently launched their series of podcasts celebrating the 30-year history of dermoscopy! Listen to the first episode now, featuring Prof Ashfaq Marghoob and Dr Aimilios Lallas sharing their stories of their first dermatoscope, how this tool has impacted their work and what's on the horizon for the future in this field.
12 min listen-Posted November 25th 2019]

Episode 2:
On this week's podcast, Professors Luc Thomas and Cliff Rosendahl share their experience and some personal anecdotes about how the dermatoscope has forever changed their work – even if Prof Rosendahl's first dermatoscope cost him $40,000! Listen here!
[13 min listen-Posted December 2nd 2019]

Episode 3:
The latest episode journeys through the 30-year history of dermatoscopy features Professor Harald Kittler's recount of the dermatoscope's very early development as a huge stereo microscope! And A/Professor Caterina Longo talks about how dermoscopy has shaped her career. Find out how here.
[11 min listen]
Episode 4:
In this week's episode, we hear from Professor Giuseppe Argenziano (one of the founding fathers of dermoscopy) as he shares his formative experiences with the technology, and get an exclusive behind-the-scenes insight into the development of the world's first polarised pocket dermatoscope from Thorsten Trotzenberg, co-founder of 3Gen LLC. Listen here.
Episode 5:
What are the origins of the first hand-held dermatoscope? This week, we hear from the grandson of inventor Helmut A. Heine, Oliver Heine. Joining him in this episode is the distinguished Associate Professor Iris Zalaudek, who recounts her early experiences with the pioneering technology. Listen here.
Episode 6:
Wrapping up the podcast series celebrating the 30-year history of dermatoscopy, this episode features A/Prof Andreas Blum who speaks about how the dermatoscope has transformed skin cancer medicine. He is joined by Prof H. Peter Soyer, who leaves us with his views on the future of dermoscopy! Find out here!